Contact Leanna on 01792 232144 or 079205 23244
Profile
Leann

a Broom has been practising for over thirty years, first qualifying as a Naturopath in 1987 she then become a graduate of the school of Phytotherapy where training and diagnostic techniques are of the highest standards. She is registered member of the National Institute of Medical Herbalists.
Leanna then became a graduate of the school of Traditional Chinese Herbal Medicine formerly of Regent's College, London and affiliated to the Nanjing University of TCM in China. Leanna gained practical experience in China and the Far East. She is a member of the Register of Chinese Herbal Medicine.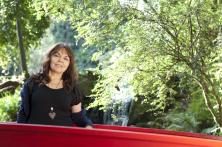 She is also a member of the Association of Master Herbalists and this diploma was gained from the UK branch of The Self Heal School and is affiliated to The Dr. Christopher School of healing, Utah, USA. Training is given in the use of natural medicine worldwide including Ayurvedic.
Leanna's Ph.D in Herbology was awarded by the College of Natural Healing in California which is run by Dr. Richard Shultz. It focuses on Skin Conditions, Women's Health, and Unusual Diseases and complex health issues, her research is ongoing. During the time spent researching in America, many talks were given in addition to lecturing and working with indigenous Native American Healers.
She has a Diploma in Eastern and Japanese facial massage for anti aging, she can share with you. Leanna is able to provide bespoke remedies in addition to a nutrition sheet to ensure each person resumes and enjoys good health.
Leanna has full registration with the above associations and has met or exceeded the training requirements of each.
Membership of the above associations ensure that you are seeing a fully qualified professional, who is bound by a strong code of ethics
Continual professional development ensures that your personal protocols will be the optimum for yourself, conducted in a professional framework of ethical confidentiality.